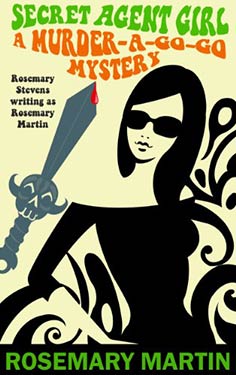 Secret Agent Girl (A Murder A-Go-Go Mystery Book 3)
Bebe's busy at Merryweather's Toy Shoppe on Fifth Avenue, celebrating its fortieth anniversary in mint style. But the shop's mascot, Mr. Skidoo the clown, has the other beloved store characters -- plus Bebe -- real bent. No secret is safe from this evil jester, and wherever he and his mini-tricycle go, veiled and vicious razzes are sure to follow. So it's no surprise when Mr. Skidoo turns up dead with a toy pirate sword plunged into his chest. Now even Bebe's a suspect, since Mr. Skidoo found out about her secret crush on Bradley. Using her latest sleuthing skills, culled from the new Bond movies and her fave show, The Man from U.N.C.L.E., Bebe will clear her name.
"That Girl! meets Miss Marple...you'll have a ball"
--Jerrilyn Farmer
October 1964
The TV camera closed in on Hugh Downs' amiable face.  "Please welcome our next guest, Bradley Williams.  Mr. Williams is the corporate manager of Merryweathers' Toy Shoppe and he has some exciting news for us this morning."
The studio audience, peppered with small children, clapped politely.
Mr. Downs turned toward Bradley.  "It's nice to have you on the Today show, Mr. Williams.  What's your plan for Merryweathers'? "   
Watching from the green room along with the store's characters, who were in full costume, I smiled when the camera shifted to my dreamy boss, Bradley.
"Thanks, Hugh.  Your viewers may know that Mr. and Mrs. Merryweather decided to retire to Florida and sell the city's favorite toy store.  Our company offered the elderly couple something others didn't.  We agreed to keep their store as they envisioned, complete with all the store characters New York families have come to love.  Not only that, but today marks the opening of Merryweathers' Toy Shoppes in Chicago and Los Angeles."
Bradley's words were met with hearty applause.  I nodded to myself.  Bradley's business sense was admirable.  His strategy had worked. He'd said the company would lose customers and money if the old store were modernized.  Instead it should be kept just as everyone loved it.   
And Bradley's legendary charm could work a crowd—or a girl's dress off her back.  I should know.  He'd almost done it to me.
"Viewers in Los Angeles and Chicago, you're in for a treat," Hugh spoke to the camera before it swung back to Bradley.
He nodded modestly.  I almost dropped the bagel I had snagged from the catered breakfast I'd ordered for everyone.  Modest? Bradley?  Confident, man-about-town, never-missed-the-cocktail hour Bradley? 
"I plan to do everything in my power to see that Merryweathers maintains its fun, friendly traditions.  In fact, all our customers and their friends are invited to the store today for a special celebration.  We're holding a Fortieth Birthday Party—"
At that moment, the store clown raced onto the set.  The tall man crouched on his little tricycle pedaling in mad circles. He honked the tricycle's red horn, tossed out candy to the audience, and paused to strum a snippet of music on his ukulele.
Boys and girls in the studio audience erupted into cries of joy.  "Mr. Skidoo!  Mr. Skidoo!" they screamed.  Parents half-heartedly tried to control their shouting and jumping children.
Dressed with an Edwardian flair, the clown wore the same costume as all the Mr. Skidoos since 1924:  White face paint with an ornately drawn black mustachio curling over red lips, black top hat, black tails over bright blue and green striped pants, a red shirt, white bowtie, white gloves, and white spats over highly polished black shoes.  Everyone loved Mr. Skidoo.
Except me.
With a flick of my wrist, I threw my half-eaten bagel into the trash can.  Behind me, the store characters waited for their turn to go on air.  Although I didn't know them particularly well yet, I couldn't help but notice that they had all turned their attention away from the TV monitor when Mr. Skidoo appeared.
The clown reveled in the adoration he received on set, throwing kisses to the audience and bowing to them.  On stage with Mr. Downs and Bradley, Mr. Skidoo steered his tricycle over to Bradley, disembarked with a flourish of his coattails, and sat on the next chair.       
"I hope Mr. Skidoo doesn't try any of his tricks on your boss while they're on air, Miss Bennett," grunted the store Pirate, Mr. Geedunk.
I turned to the beefy Pirate and gently petted the large green, red and yellow parrot perched on his shoulder.  "Surely Mr. Skidoo wouldn't do something like that on national television."  Privately, I was thinking that's exactly what he would do.
The parrot squawked.  "Kill the clown!"
Muffled laughter filled the green room.
I raised a puzzled brow at the Pirate, hoping for an explanation, but none was forthcoming.
The store manager, Mr. Mallory, dressed in a chalk-striped dark blue suit and bowler hat, pointed his walking stick to the room in general.  In a stiff English accent he said, "I won't tolerate any public rudeness toward Mr. Skidoo.  He has been the store's mascot for forty years. You must respect the clown currently representing him."
Respect is earned, I thought, but kept quiet and turned back to the TV monitor.
Bradley smiled with good nature when Mr. Skidoo squirted water in his face from a flower pin.  Whisking his white, starched handkerchief out from his suit jacket pocket, Bradley made a swipe at his face, then spoke.  "We'll have birthday cake, punch, and the first one hundred girls under ten years old will receive a Raggedy Ann doll.  The first one hundred boys under ten years old will get their own dye cast police car."
The studio audience yelled its approval.
Mr. Skidoo squirted Hugh Downs.
The anchorman laughed and said, "We'll be right back after these words from our sponsor."
That served as a cue to the rest of the store characters who began to file out of the green room.
"Break a leg, everyone," I said.
They passed by me:  The Cowboy, the Princess, the Pirate and his parrot, the Train Conductor, Raggedy Ann, the Toymaker, the Teddy Bear--who served as the store greeter--and finally, the store manager, Mr. Mallory, his nose in the air.
Everyone gathered behind Mr. Downs and Bradley, except Mr. Skidoo.  The clown was front and center, playing a miniature white tuba.
I stood off camera to one side of the stage.
After the commercial break, the camera focused on the group shot.  The store characters smiled and waved to the crowd.
"Thanks for watching everyone.  Please be sure to tune in tomorrow."  Mr. Downs could barely close the show over the noise from the children and Mr. Skidoo's tuba.
The lights on the set dimmed.
Bradley shook hands with Mr. Downs, exited his chair, and strolled over to me.  "Everyone happy backstage, Miss Bennett?"
I looked into the bluest blue of all—Bradley's eyes--crossed my fingers behind my back, and fibbed.  "Yes, Mr. Williams. The catered breakfast went over especially well." 
We had returned to formal address over the summer after I had almost lost my virginity to him last spring. 
He walked with me back to the green room.  "Good.  You're a superb executive secretary.  I wouldn't have asked you to come with me from Ryan Modeling if I didn't think so.  Thank you for saying yes."
A tidal wave couldn't have stopped me.  "Of course."
Deliberately, I raised my right hand to waist level and pretended to examine my Tiffany's gold charm bracelet, the gold typewriter charm sparkling in the light.  Bradley had given it to me one sunny day before he'd turned into Mr. Strict Boss.
My mind flashed back to the end of spring.  While I had thought Bradley was on the brink of selecting that perfect diamond engagement ring from Tiffany's, he'd spent the summer locked in his all-business attitude, disabusing me of any such notion.  Now the leaves on the trees were red and gold and he still wore the shield of a professional relationship.  A James Bond fan, I wondered if I were destined to play Miss Moneypenny to his James Bond forever.  Although with my past record of solving murder cases, I was more the investigating type than Bradley.
My pride demanded that I behave in a similar professional, aloof way, but it didn't stop me from wearing the perfume that drove Bradley crazy, My Sin.
We moved into the green room.  "You're certain you can handle your secretarial duties and keep an eye on the sales floor?"
I stood as tall as my five foot seven inches could stretch next to his lean six foot build.  "I'm perfectly capable of balancing my duties.  I'm pleased you approved my plan to bring Danielle with us when we left Ryan Modeling.  She can take over for me when I'm downstairs and help out when I'm at my desk."
"Good. I want someone I know and trust to report what our employees are like and spot any potential problems."  Bradley tugged his starched white cuff and glanced at his watch.  "We have less than two hours before the birthday party begins."
"Won't it be groovy?  Who can resist a party with lots of children?"
He closed his eyes briefly and inhaled a deep breath.  "At least no one will be murdered," he said, his handsome face stern.
I blushed, a bad, if involuntary, habit of mine.  Bradley knew I had an uncanny knack for getting involved in murder investigations. He'd forgotten the last one where he'd been the prime suspect and I had found the killer.
"Why on earth would anyone at a children's toy store be murdered?  I don't know how you can even say such a thing."
He shrugged one muscled shoulder.  "Gather the troops and meet me at the store.  We have to get ready for the little devils."
Buy the Book: